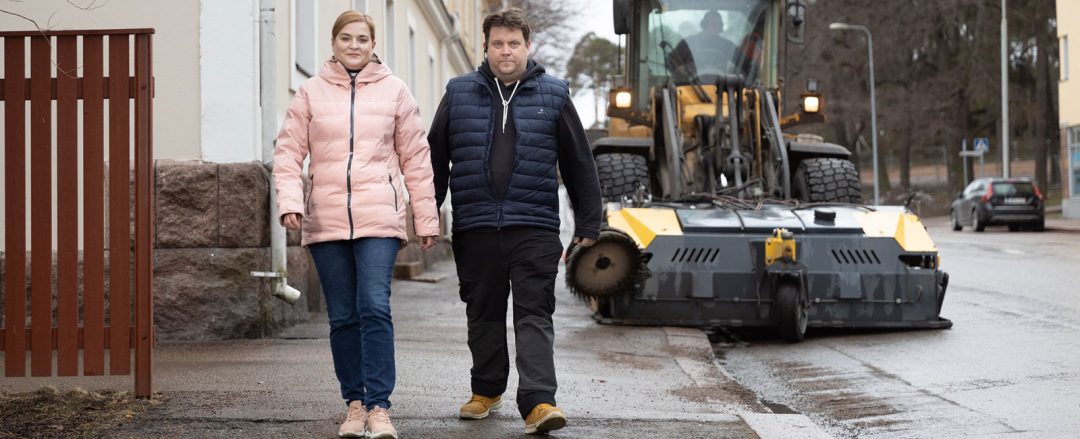 5.5.2022 | Entrepreneur stories
Kotkan Kiinteistöpalvelu join PHM Group in 2015
Kotkan Kiinteistöpalvelu is a previously family-owned business headed by Mikko Pirinen, former owner of the company and current employee of the PHM Group, and his wife Terhi Ripatti. The company was founded by Mikko's father, and Mikko and his wife have followed in his father's footsteps in the same business since 1998. Both Mikko and Terhi are true professionals in property maintenance tasks and as entrepreneurs; over the years, they have both worked a wide range of real estate jobs.
"We had about five employees when we took over the company founded by my father. At that time, the company was a very small property maintenance business that provided janitor-type services. After I started my business studies, we decided to gradually develop and grow our business in a more professional direction. Over the years, we've worked all kinds of jobs, from cleaning to shovelling snow. It has been very educational," says Mikko Pirinen, explaining the journey of the company. range of real estate jobs.
Until 2015, the company was owned by the family and had grown into a strong local operator in Kotka with a turnover of around EUR 5 million.
"In the summer of 2015, Ville Rantala and Mika Uusi-Simola from PHM Group approached me and offered us the chance to join the Group. In fact, we hadn't planned to sell the company at the time – perhaps we had entertained the idea as a future possibility, but I thought that we wouldn't sell until the company got much bigger."
However, things progressed quite quickly, and in October 2015, PHM Group acquired Kotkan Kiinteistöpalvelu Oy.
"I felt that the support offered by PHM Group for growth and the possibility to continue as an independent unit under our own name were pivotal factors in our acceptance of the offer. I don't see myself as a national player. Being a unit of a big company is quite different from being an independent and local operator – that is what we always wanted to be," says Pirinen.
With the support of PHM Group, Kotkan Kiinteistöpalvelu has grown into a company with a turnover of about eight million euros. The company's strong contractual customer base has remained and grown steadily over the years, forming an important foundation for the business. In addition, the operations have been developed in the area of additional services, such as the supply of electrical work in renovations.
"Entrepreneurship is a lonely business, and managing growth and ensuring profitability can be a challenging task on top of all the actual work. This is something PHM Group has been particularly supportive and knowledgeable about. We are still a local and familiar player for our customers, but thanks to PHM Group's network and expertise, we can offer our customers even more reliable deliveries and faster response times."
Today, Kotkan Kiinteistöpalvelu serves more than 500 customers each month. Pirinen continues to lead operations locally, and Ripatti is heavily involved in running the daily work. Both have extensive expertise in the property maintenance sector, which translates to benefits to the customer.
"We understand the work from the grass-roots level up and speak the same language as maintenance staff and cleaners. This also makes offer calculations easier because we know how long each job takes. The result is a more efficient service for the customer," says Terhi Ripatti.
Today, Kotkan Kiinteistöpalvelu has about 140 employees in the Kotka and Hamina region. The everyday lives of the entrepreneurs have also changed after joining PHM Group.
"Thanks to PHM Group's network, we can offer our customers even better expertise and more extensive services. We are more than a property maintenance company; we are a professional in building services engineering and electrical work, a gardener and a reconstruction company all in one package. For customers, this makes it easy to purchase services through a reliable, local and familiar operator."
Centralised sourcing and fleet concentration also create price advantages for customers, as the sourcing advantages of a large company are significant.
"In all respects, the operations are more professional, which I am very pleased with. We continue to work with an entrepreneurial mindset, our customer service is local and the business is guided by the local market. At the same time, we are fast and agile, because the opportunity to make local decisions is strong."
Pirinen also appreciates the fruitful opportunity to use the other PHM Group units as a sounding board for business ideas. Established and proven practices can be useful for other units as well, and in the event of an emergency or lack of resources, other units can offer assistance in the form of machinery and equipment as well as personnel. In addition, PHM Group has set up operating procedures for occupational health and safety and HR management, and the procedures are available to all the companies in the Group.
"The headquarters offer us assistance whenever we need it. This way, problems are not repeated across all the different companies and units. For instance, communications during the COVID-19 pandemic have been a good example of this as they made our daily operations much easier."
After all these years, a future in PHM Group feels like a natural choice for Pirinen and Ripatti.
"Terhi and I have enjoyed our seven years with PHM Group, and we're not going anywhere. Our passion for our work stems from the fact that our job is also our hobby. If I were asked now whether I would become an entrepreneur, I'd say that I'm very pleased with the freedom brought by selling my company to PHM Group. Now, I get to have holidays and a monthly salary and, at the same time, have the same freedom as entrepreneurs. The offer would need to be truly amazing for me to leave my current situation," says Pirinen.