Our job is to take care of people by taking care of their living environment. This is our mission. We serve our customers by providing a broad range of property maintenance services, management services and technical services locally in Finland, Sweden, Norway, Denmark and Germany.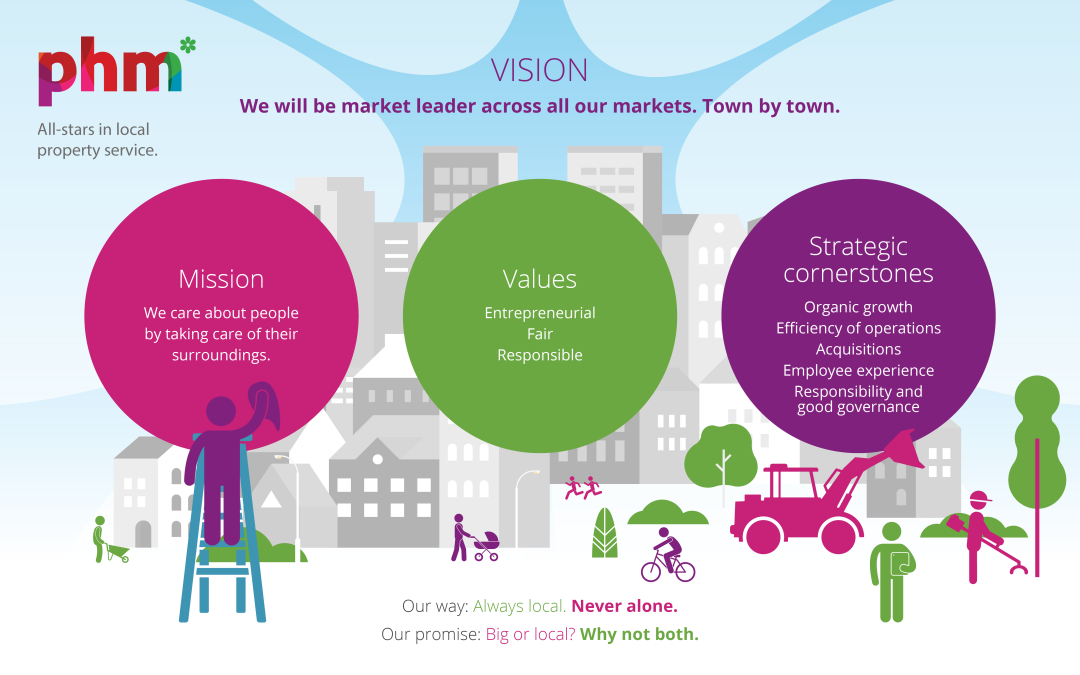 Our vision is to grow into a leading local property services partner in all of our operating countries. The large but fragmented property services market provides a good starting point for our company's expansion both organically and through acquisitions. Our objective of growth is also supported by megatrends, including urbanisation, the ageing of the building stock and the increasing use of service outsourcing.
To achieve our objective, we have defined five key cornerstones for our strategy. They represent the areas in which we aim to succeed.
Organic growth
We will grow nationally by leveraging our extensive local expertise. We know our customers. Familiar local contact persons provide flexible and quick service to our customers. They are backed by the service offering
and resources of a large corporation. This enables us to deliver an unrivalled customer experience. We systematically develop our sales efforts and take advantage of cross-selling across our broad range of services. In accordance with the one-stop shop principle, our customers benefit from our extensive service selection that meets the various needs of their properties.
Efficiency of operations
Competitive and efficient operation and continuous development make us the most profitable service company in the market. We have set high quality criteria for our operations – we are professional and we do what we promise. We simultaneously take advantage of the economies of scale of a large company and the agility of local operators. Our centralised support functions and management model enable the sharing of resources and best practices in response to local needs. The advantages of digitalisation are part of our efficiency and agility.
Acquisitions
We grow and create value by actively making acquisitions to expand our business geographically and in terms of our range of services. We ensure that the acquired businesses are smoothly integrated and managed through our efficient integration process. We provide centralised resources and procurement expertise to all PHM Group companies. We maintain the entrepreneur-led character of acquired companies and ensure the continuity of local operations by engaging the commitment of key personnel to the company.
Employee experience
Excellent leadership, smooth daily life and a safe and inspiring workplace environment make us the best employer in our industry. We offer the career opportunities and stability of a large corporation combined with the local organisational culture of a small company. We value an entrepreneurial approach to work, which provides diverse and independent job descriptions as well as freedom and responsibility.
Responsibility and good governance
We are a responsible and reliable company that operates in accordance with ethical business principles. We do not compromise on compliance with laws and shared rules. We provide our customers with services that promote sustainable development. We take a transparent and serious approach to our responsibility for people and our shared environment. The support and optimised resources of a large corporation ensures the reliability and efficiency of operations from both the sustainability perspective and the business perspective.