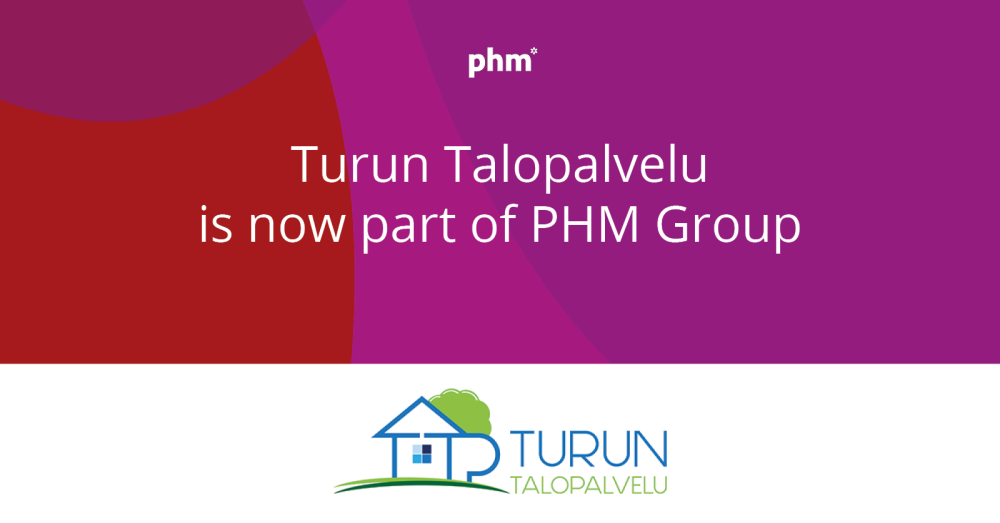 Turun Talopalvelu is now part of PHM Group
7.6.2023 klo 14:00
|
News
Turku-based Kiinteistöhuolto J. Rusanen Oy, a PHM partner, has acquired the entire share capital of Turun Talopalvelu Oy and strengthens its regional presence in the region of Southwest Finland.
Turun Talopalvelu Oy is a full-service property management and property maintenance company based in Turku, with good regional knowledge and an extensive local cooperation network. The company employs four employees, and its customers are located in the Turku region.
"I've been in the business for a long time, and retirement is on the horizon towards the end of 2023. It's great that the business will continue in safe hands from now on and that we can serve our customers based on the same values as before", says Tero Virtanen, founder and owner of Turun Talopalvelu Oy, founded in 1999.
PHM Group is made up of over 100 local property service companies, all guided by the same values: entrepreneurial spirit, fairness, and responsibility.
"We want to continue to cherish the high-quality service provided by the active employees of Turun Talopalvelu. It is a pleasure to have experienced and active people in our team", says Jouni Rusanen, Managing Director at Kiinteistöhuolto J. Rusanen.
PHM partner companies work closely together locally. This cooperation is reflected in a smoother service for customers, as confirmed by Sakari Pietilä, Operational Director at PHM Group: "We intend to develop our services in many ways, and one of our first development measures is the introduction of electronic invoicing for customers of Turun Talopalvelu."
For more information, please contact:

Sakari Pietilä, PHM Group, tel. +358 50 385 1138​​​​​​​
Jouni Rusanen, Kiinteistöhuolto J. Rusanen Oy, tel. +358 44 778 6659
Tero Virtanen, Turun Talopalvelu Oy, tel. +358 400 888 365