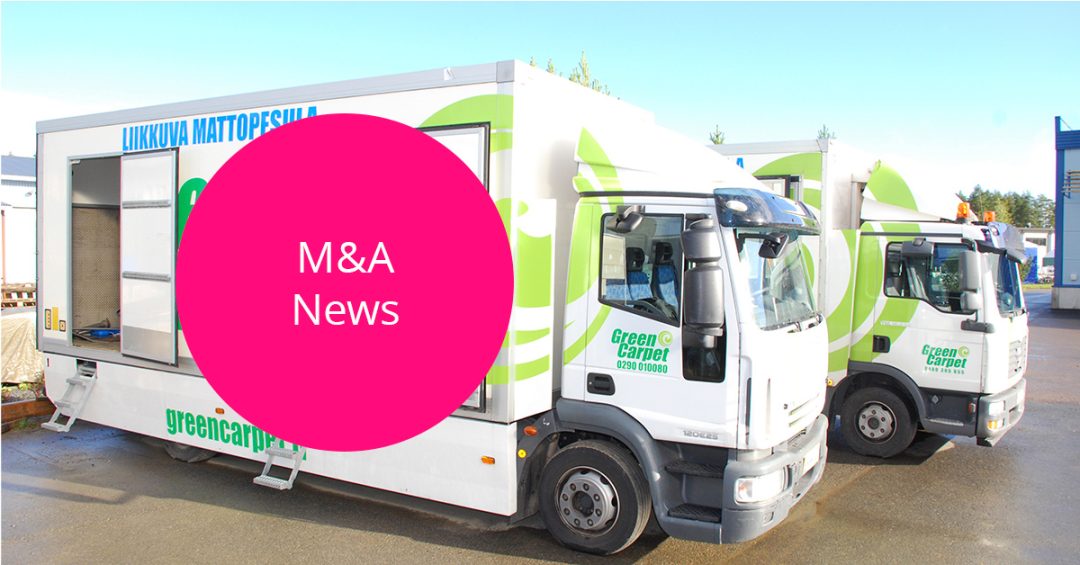 25.9.2023 | News
PHM expands its range of services – Green Carpet is now part of PHM Group
PHM Finland Oy has acquired Green Carpet, a supplier of carpeting and carpet cleaning services. The acquisition strengthens PHM Group's position as a full-service provider for property services.
Green Carpet, a nationwide operating company, offers a full range of services, including carpeting and carpet cleaning services. The company's unique mobile carpet cleaning service enables carpets to be cleaned efficiently, with high quality and in an environmentally efficient manner. In addition to carpet cleaning services, Green Carpet offers a full service that includes carpet needs assessment, carpet delivery and regular carpet maintenance.
– Green Carpet's versatile carpet services are an excellent complement to the services we offer to residential and commercial properties. The company has solid experience in environmentally efficient carpet solutions, which we can now offer to our customers in Finland," says Vesa Koljonen, Operative Director of PHM Group.
Ecologically sustainable service
Transporting carpets to and from the carpet cleaner consumes fuel and vehicles. Green Carpet's planned driving arrangements and on-demand carpet cleaning service with a mobile carpet cleaner eliminate the need to take carpets to and from carpet cleaners. Compared to traditional carpet rental services, the number of journeys is significantly reduced, as the use of higher quality carpets for properties already allows for a multiplication of wash intervals and minimises the need for transport to intermediate warehouses and large laundries.
– Ecology is just one added value in the end result of the technology developed by Green Carpet, where the success factor is a service package that other operators cannot offer," says Henri Asposalo, CEO of Green Carpet.
Green Carpet has been awarded the 2012 Ympäristöteko award for its business model that saves water and energy. Green Carpet has also been awarded the 2009 Innosuomi honourable mention.
For more information:
Vesa Koljonen, Operative Director, PHM Group, +358 10 270 8056, vesa.koljonen@phmgroup.com
Henri Asposalo, CEO, Green Carpet, +358 50 344 1474, henri.asposalo@greencarpet.fi