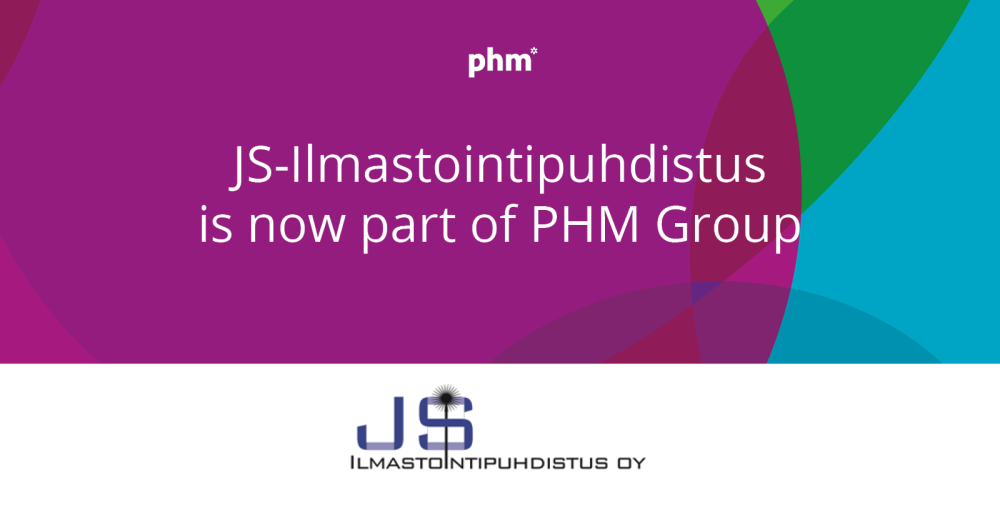 JS-Ilmastointipuhdistus Oy is now part of PHM Group
22.5.2023 klo 17:00
|
News
PHM Finland Oy has acquired the entire share capital of JS-Ilmastointipuhdistus Oy on 12 May 2023.The acquisition strengthens PHM Group's building service technology offering and expertise in Southwest Finland.
JS-Ilmastointipuhdistus Oy was established in 2010 and its services include cleaning and disinfection of ventilation systems, air volume measurement and balancing, maintenance and installation, and condition surveys of ventilation ducts. The company operates mainly in the region of Southwest Finland.
"Our newest PHM partner brings us a much-needed addition to support and strengthen our existing local building service engineering expertise. We can offer our customers a wide range of demanding technical services", says Sakari Pietilä, Operational Director at PHM Group.
JS-Ilmastation Cleaning currently employs seven people. The company will operate as part of PHM Group and will continue to operate under its own name and corporate identity.
"The acquisition opens up more opportunities for us to grow in the industry, and we can offer our existing and new customers a wider range of services", says Jesse Salo, CEO of JS-Ilmastointipuhdistus Oy.
Jesse Salo, CEO, JS-Ilmastointipuhdistus Oy
jsip@jsip.fi, puh. +358 40 518 9330